OUR MISSION
At Dawn Pilates Studio, our mission is to help students achieve their fitness goals, safely and effectively. Using both classical and contemporary methods, Dawn Pilates Studio teaches safe methods to increase core strength, and improve posture - all in support of long term health and wellness!

OUR METHOD
A time-tested form of exercise, Pilates uses the principles of concentration, breath, control, centering, precision, and flow. These principles, in conjunction with proven, movement-based bio mechanics, maximize the ability to achieve fitness one's goals. "In ten sessions you will FEEL the difference, in twenty sessions you will SEE the difference, and in thirty sessions you will have a whole new body." - Joseph Pilates

OUR PHILOSOPHY
Generally, physical lifestyles today lack balance and a mind-body connection. Pilates builds strong physical foundations that become the core of increased self-awareness. Toning and strengthening muscles, preventing injuries, increasing mobility, and learning to properly stabilize your joints are essential to health and wellness.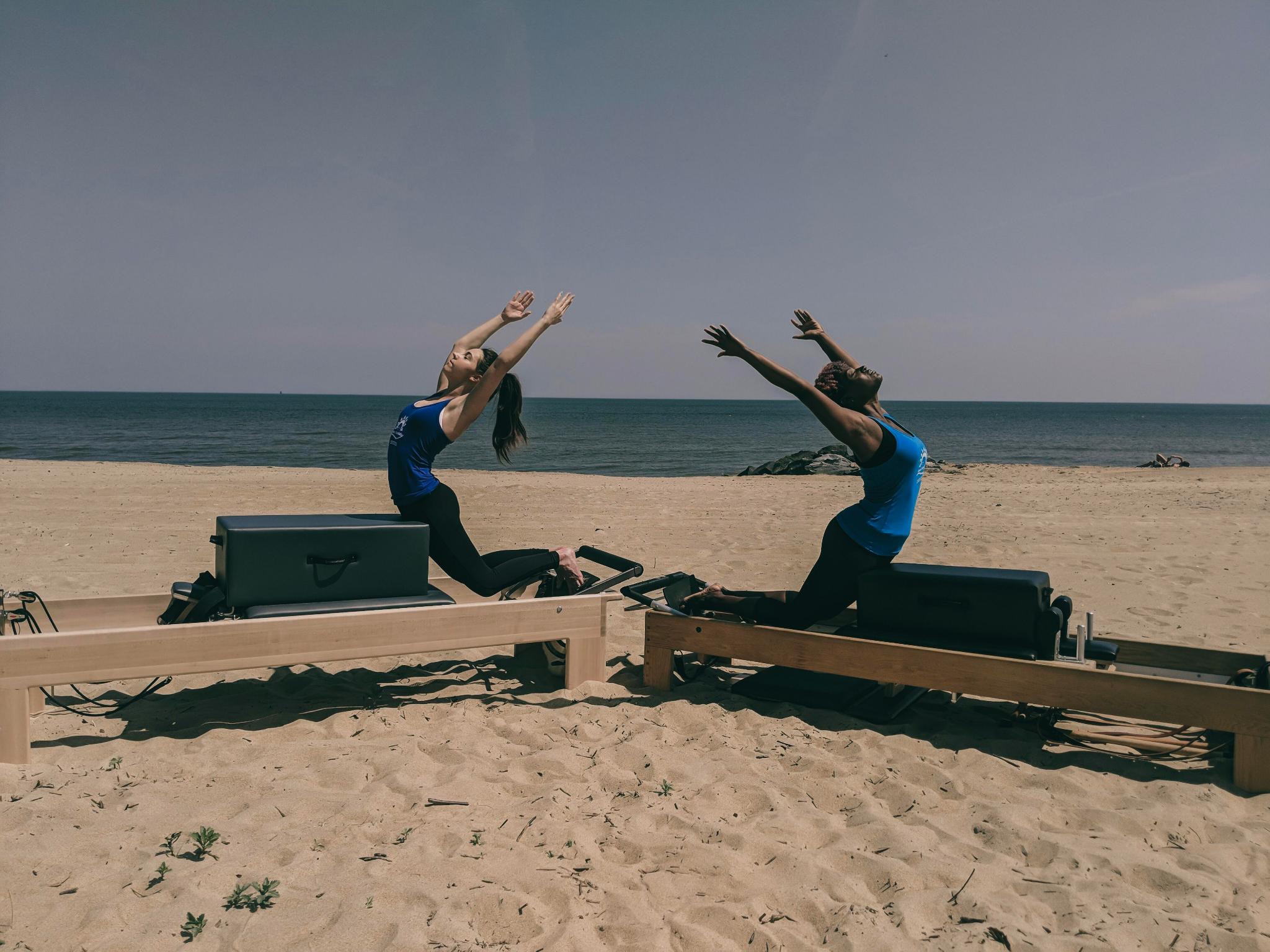 THE DAWN PILATES DIFFERENCE:
We never settle for a one-size-fits-all approach. Bodies are not alike, and our diverse fitness classes and instruction are tailored to enable our clients to achieve their fitness goals.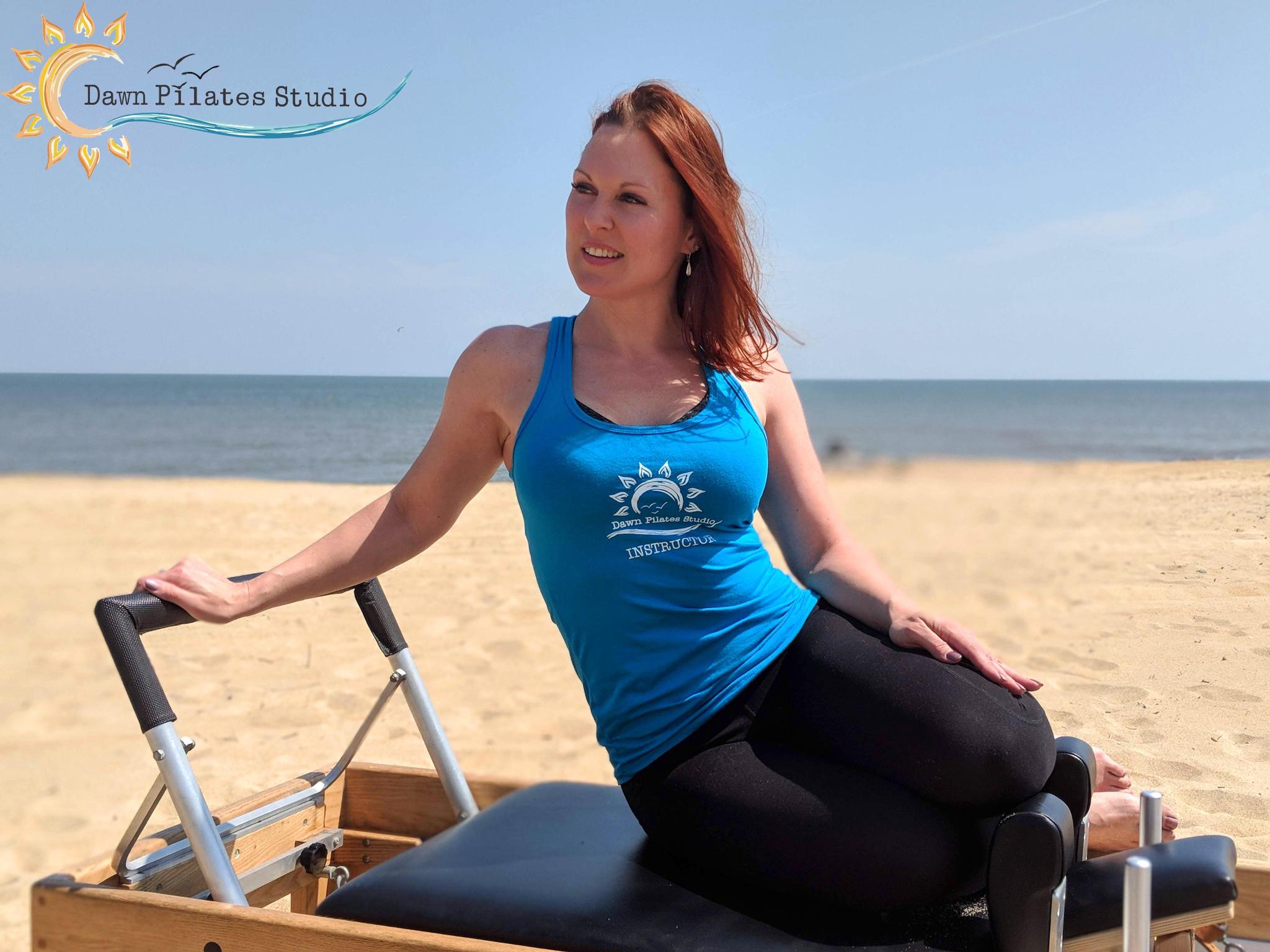 Amanda Dawn - Studio Owner
Amanda is a Virginia Beach native and was first introduced to Pilates through her studies at The Govenors School For the Arts dance program in the early 1990's. Then in 2015 she discovered the Pilates Reformer and fell in love! This piece of equipment opened up an entire world of strength and stability training that helped her build long lean muscle, and help prevent future injuries. Pilates' rehabilitative nature also spoke to her... she personally rehabilitated from a torn meniscus and ACL, and also helped family members recover from strokes and hip replacements through this methodology and its' equipment.
After seeing (and experiencing) how Pilates can help people to gain full natural mobility AND overcome/recover from some of the most debilitating injuries and health events, she knew she had to spread the word! ... and Dawn Pilates Studio was born.
We are a boutique Reformer-based Pilates Studio that prides itself in offering an individualized and affordable experience to all people at EVERY stage of their life!
Christine - Education Director & Instructor
Christine's first Pilates experience was serendipitous. While taking a drop-in ballet class at Norfolk's Virginia Ballet Theatre, Christine was introduced to Gayla Zukevich. Gayla trained in Pilates under Romana Kryzanowska, a student of Joseph Pilates. Christine was hooked from Gayla's first class. Seeing the benefits of Pilates for herself on her own body, she immediately incorporated several Pilates mat work exercises into her conditioning classes for her ballet students at the Acadamie de Ballet in Chesapeake, VA where she also currently teaches and has taught Vaganova-based ballet technique for over 30 years.
Christine became comprehensively certified through Club Pilates. Being able to watch people's bodies visually transform and see people move and feel better is what Christine loves most about teaching this incredible method of exercise. Christine is grateful to be here at Dawn Pilates Studio. She enjoys getting to know the clients and helping them achieve their fitness goals- whether it's being able to get up out of a chair more easily or swinging a hockey stick with more torso rotation. Each success is so rewarding!
Diane - Instructor
Diane received her designation of Certified Pilates Instructor after 800 plus hours of comprehensive classical training. She has had her own Pilates private training studio in Virginia Beach for the past 5 years, and we welcome her in joining our group fitness family at Dawn Pilates Studio. She has adapted Joseph Pilates' philosophy "You are only as old as your spine is flexible" as her mantra, and looks forward to meeting and working with all of our wonderful members!
Aranka - Instructor
We welcome back Aranka to our Instructor family. She is a physical fitness veteran in every sense of the word! With a background in music and dance, Aranka believes Pilates is for everyone, and it can help make us ALL feel wonderful. She pursued her Comprehensive Pilates Certification in 2020-2021, and loves pairing that expertise with a philosophy of enjoyment. We're all smiles over here at DPS!
New Instructor - Karen
Every Tuesday Beginning March 1st
@ 11am & 12 noon, 430, 530 & 630PM
I am native of Chesapeake and currently reside in Great Bridge. I teaches Pilates, Yoga, Aerobics, and weight training as a PE Instructor for Old Dominion University. I have earned my Personal Training Certification through NASM, and I enjoy working with clients both in group settings and one-on-one. In my spare time, I love spending time with my 2 granddaughters ages five and eight....and they continue to keep me young at heart! I am looking forward to teaching at Dawn Pilates Studio where I can continue my passions for health and wellness.





Now an official TRX training Facility!
Next Suspension Training course TBA, call for info.