Pilates in the Park Event
Join us for our 2nd Pilates in the Park event! We had such a great time in June for our 1st run of this event that we just had to bring it back! We will be set up at Chesapeake City Park this time on Sunday, August 23rd at 10am.
We will have our flag set up as well as our tent, so you won't be able to miss us. Please bring...
*A Yoga/Pilates Mat or Towel
*Bottle of Water
*A Smile!
This is a donation-based class and all proceed will benefit the conscious kid- a nonprofit organization that partners with organizations, children's museums, schools and families across the country to promote access to children's books centering underrepresented and oppressed groups.
You can donate directly to the organization using the QR code in the flyer above or you are welcome to donate with cash the day of the event and we will make a direct donation with all the proceeds to the conscious kid right after the event.

Last week marked the 10th session for our 3 DPS ambassadors in their 30 Pilates Sessions Challenge!! Woohoo! We are so proud of them!
Take a look at their before and after photos. Each of our ambassadors are definitely FEELING the difference from their consistent 3 days per week of Pilates sessions. And the photos even SHOW the differences already!


Thank you ambassadors for your dedication and spreading the word about the benefits of the Pilates method. Follow Michelle, Tom, and Lyna's journeys on social media via their pages and on our DPS Instagram and Facebook pages (click on links below).


Read the testimonials from each of our ambassadors below...


Michelle: "I never knew much of anything about Pilates when I started. Now I'm 10 sessions in and I've learned so much!! I feel stronger, leaner and more tone. I always feel fantastic after a session. Even better, my husband of 20 years has noticed a difference in my shape."


Tom: "I really like the focus on the core, especially the Long Stretch exercise. Definitely feeling better and better after each session. Thanks!"


Lyna: "After 10 sessions, I was shocked by the physical and mental results. After my accident, I found out that I have arthritis in my neck and Pilates has seriously helped with my mobility. It's helped with strengthening my core. I feel that it's an essential part of my life now, to help me with my depression and anxiety."

We have a few specials going on this summer! Don't miss out on these great deals!


*$19.99 Starter Pack (New Clients Only)
Receive 1 private intro session, 1 pair of Pilates grip socks, 1 DPS water bottle, and 1 DPS tote bag (A $70 value)


*$14.99 DPS Merch Bundle
Not a new client, but still want the deal for the loot? We have our DPS tote, DPS water bottle, and 1 pair of grip socks on a bundled special for $14.99!!

* Perks for Referrals
Members receive a Free Water Bottle or DPS Tote Bag upon 2 referral to our Intro Sessions.In addition, when a referral signs up for a DPS membership, you will receive your choice of a FREE Magic Circle or a $40 retail credit (regular price merchandise only).

*Complimentary On-Demand Virtual Classes
Unlimited Memberships receive FREE access to our On-Demand Virtual Library through Namastream.
For questions or inquiries, please call

757-355-5551
or email brande@dawnpilates.net.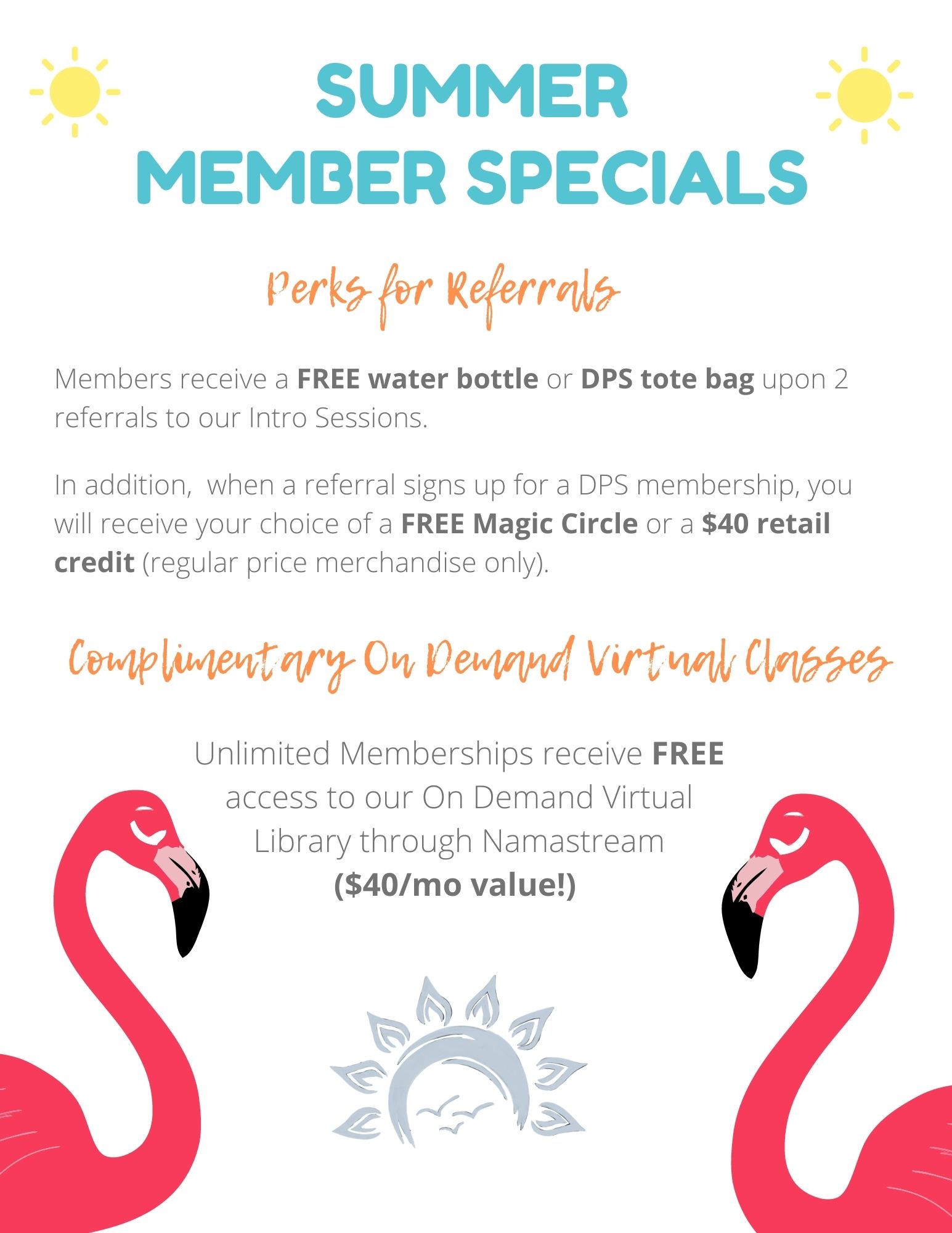 Have a great week everyone!!